First I need to say I made an error with my top ten red list, for some reason I forgot Marvelous I even had him in my mind during that list, he was going to be number six, but for some reason Geki from Zyuranger popped in my head. So Marvelous is actually my number six and no this doesnt push the others down its just a replacement. Well when there are red warriors there is a blue warrior was well as every sentai had a blue on their team, so let the list begin.
10. Renn Kousaka (Go-on Blue)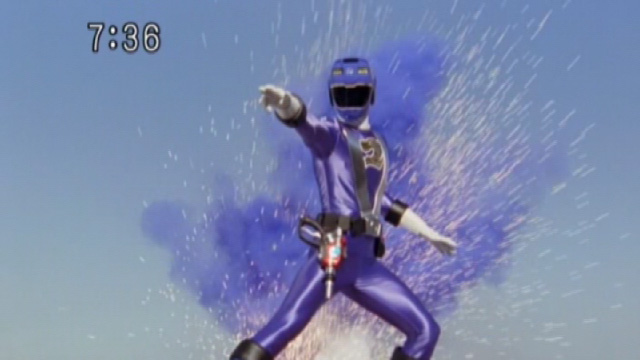 Renn was a fun character he was the most mature on the team before Hiroto and Miu came in becuase he was like a mother figure. He always did cooking and many other chores like that the series even show how he becomes like this which was very strong and a personal favorite episode of mine. Renn is overall a nice guy with a big brain as he invents new ways to fight the villians.
9. Akira (Blue Mask)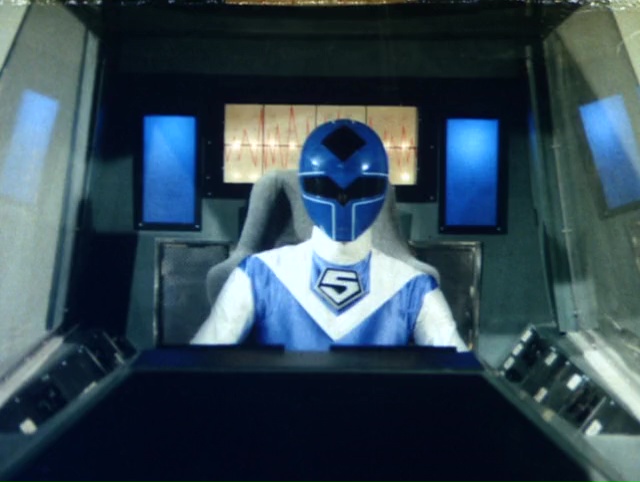 He is an good humor character and is a tough one as well even with him being shorter than the others. The series plays with his height a lot if it is for humor or to show how hard he will fight. Akira is actually really tough as he trains very hard to overcome his height disadvantage, sure he does wear some odd clothing for time to time, but it was the 80's.
8. Shun Namiki (Megablue)
Shun is the first smart blue ranger I think, I also think MMPR influenced his character a little. Well unlike Billy he is a social hermit who wants to be a graphic artist he is also a chick magnet as it is seen in the 2nd version of the Megaranger opening. Shun also had a love episode which was good, but it did do good devleoping him.
7. Gouki (Gingablue)
I always hear that this guy is a fan favorite of the Gingaman series and I can see why he is a comic character as well shy, but is the oldest and very strong. Gouki at first was annoying I will say that, but he devleops very nicely as he gets some good serious and funny episodes. I also really liked seeing him in the Gaoranger movie.
6. Ayase (Timeblue)
This is a great character who devleoped very well in the first set of episodes he at first wasnt that great with orders because of him being in a different time. Also he has issues of his own that puts him down even more. Tatsyua helps him though as he follows a new way of just being able to change tommorow which gets him up to fight. His past live in the future is shown in some episodes with him meeting an old racing friend and an episode where we find out whats wrong with him he is an interesting character who looks like he didnt care, but soon changed his ways.
5. Shouta Mogami (Bouken Blue)
Shouta is both a comic character, a genius, and a pervert at times. He knows how to work with computers greatly as he always looks up for information and can hack systems. His comedic side comes when he is a pervert the best moment is when he is being interrogated by the Questers and try to see what is in his mind every time it was a different girl (I cannot forget the one with Sakura and Natsumi that would be stuck in my head for sure). So he is a playboy like character, but has a good heart as his intelligence helps the team greatly.
4. Ako Hayasake (Blue Swallow)
I think she is an underrated character because a lot of times she doesnt get all the focus, but the episode she is the focus are very strong. Ako is a greedy teenage girl who at first fought with the team for money, but she soon changes her mind which was nice. She wanted to fight for justice like a warrior would, but she also goes through some hard times. There was the episodes where Jet Garuda was introduced where she met a dimensional being Dan who tried to win her over, but thigns dont go good for either of them. There was also the ramen episode that Jetman fans remember a lot because it was weird, but very funny and it was nice to see that brand of ramen in the Jetman episode of Gokaiger.
3. Joe Gibken (Gokai Blue)
Gokaiger is doing tons of great things and heads up every member of Gokaiger will be on upcoming lists (exepct for Gai he was close though). Well Joe is a great sword fighter as the first focus episode he had shown him fight with five swords badass! If you have been watching Gokaiger you know about his past of being with the Zangyack and his friend Sid. That character pushes him along to fight even harder ever since the Shinkenger episode and the Liveman episode did great with that as well. Overall Joe is a very skilled fighter who will save his friend Sid no matter what even if it is him or just his soul.
2. Nanami Nono (Hurricane Blue)
First she is my favorite female character in Super Sentai she is just a fun character. She is the water ninja and she always had a dream of being a singer. She is the only female member as the series does use that, but she still fights as hard as the others. She always wanted to bond with other girls because being the only female around can get trying. She is also one of my favorite comedic characters as she as great moments. Another great thing about her she can actually sing no really she does have a singing career and I like that she is actually an idol in the Boukenger team up movie.
1. Hoji Tomasu (DekaBlue)
Easily one of the most skilled sentai warriors he is a great shot and a strong fighter who never will give up a fight. Hoji is a hard worker who will do what is right in the name of the law even if it hurts him. Hoji's episodes are fing awsome as three really do great with him. The first one where he has to fight an old friend and their quick draw scene was great as it build up suspense perfectly. The second episode where he has to fight in an illegal match to get closer to the owner where he beats an Alienizer out of suit! The third episode is where he has to fight a really close friend as he is the brother of someone he loves this is my favorite episode of Dekaranger as it really plays the cop theme perfectly and is really sad. Hoji is a great police officer who has great skill and a calm mind. Thats my list and remember always leave your opinions I am not trying to stop anyone from doing that (referencing to the mix up with the 100th post)