I was asked about these type of lists so I finally decided to do it, now I havent seen every sentai series. Some are really hard to find and I cant speak Japanese so I need subtitles. Please feel free on waht you have to say.
10. Ryuu Tendou (Red Hawk)
For the first spot I give it to Red Hawk. First he is an interesting character of a hero who still has pain of the death of his fiance. I wont spoil things here so deal with it, if you saw Jetman you know what happens. This affects him throughout the series and its done well in the series he can also be a great leader. Still his love does get in the way of battle and because of that causes some issues with the team. I'm glad that he is happy in the end.
9. Kyosuke Jinnai (Red Racer)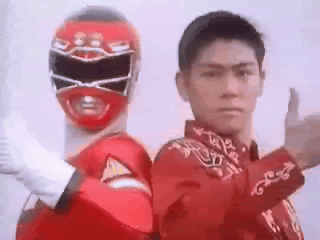 Carranger is the funniest sentai series so far as it is a parody series and the leader was the best of the crew. He is a brave man, but can also be a big fool which makes me laugh a lot. Heck even the times he acts like a goof it ends up good. With a big heart, but not being the smartest fellow he is my number 9.
8. Kai Ozu (Magired)
Now Maigranger isnt my favorite series from the franchise it actually made me mad watching it sometimes. Kai was a great character though, being something simple as a school kid as well as the littlest sibling in the family he is the leader of the team. The show did really good with his progress as a leader and he is strong no doubt. He pulls off amazing wins by his own also I know how it is being the youngest sibling so I could have a soft spot for him.
7. Takeru Shiba (Shinkenred)
Shinkenger was an amazing series I have said before and their red was really great giving him a great story. At first he acts like he doesnt really care about having a team since he thinks he can fight by himself, but he soon acts like how a lord should and trusts his team. Bad news is that he had way too much focus of the series I know its really good, but a character shouldnt overshadow other characters.
6. Geki (Tyranno Ranger)
Mighty Morphin is a great series imo, but sadly it didnt have really strong characters. It was the first series, but I need something more than high school issues. Well at least Zyuranger didnt do the high school thing, but had warriors who are reawakened to fight Bandora. Geki though deals with a big issues though and it has to do with Dragon Ranger, Burai. I wont say because I hate spoiling things at times unless I have to, to prove a point.
5. Sosuke Esumi (Go-on Red)
I have a feeling that I could get some hate for this, but I like Go-on Red a lot. First Go-onger was the first sentai series I watched, but even with that Sosuke is a great leader who supports the whole team and proves how strong he is. I like how he proves his strength to the Go-on Wings because it showed that the young and reckless have great potential in battle. Still like any leader he can be serious and can think of some good plans. So I know I'm going to get hate for this, but oh well.
4. Jan Kando (Gekired)
This could be another reason why I could get some hate mostly because some people can get confused on what the hell Jan is saying. First yes that can get confusing, but the other characters explain it all you have to do is remember. Still he is a wild boy who is soon thrown into battle as he climbs to become stronger to protect others. Jan has some great fights and has a good back story which really is done well and makes the final episodes more dynamic at times. He maybe confusing, but a great hero he is.
3. Satour Akashi (Boukenred)
I said that Boukenger is my favorite series from the franchise and of course their red had to be on this list. Akashi is probably the best leader to have because he is smart and strong. Akashi does share some greif with the death of his friends from before and carries a nickname that only gives him more grief. Even with that he still fights and explores to me it seems it doesnt hold him back at all. He knows the most important thing about adventures and he greatly supports his team.
2. Takeru (Red Mask)
There was another Takeru before the Shinkenger one and I think Shiba takes some similar things with him. At first he is mostly fighting on his own as he fights for the revenge of a lover. This really encouargaes him to fight even more as he wants to save her because he is hoping she is alive. This does lead to some love issues with another teammate, but she helps him out to become a better fighter. Also it doesnt hold the team back that much like Ryuu did.
1. Ryou Tenkasei (Ryuu Ranger)
I have been watching more and more of Dairanger and Ryou is my favorite red warrior so far. First he is another great leader who risks his life for the team. Also he had a great rivalry with Jin which I love sooooo much. Another thing is that his fighting skills are very good as he continues to train more and more and it is shown further in the series. So thats my list, feel free to your own opinions.